Pathways Cloud includes a series of pre-made lists on the left that reflect some really common lists you may want when doing placements, but there are always scenarios where you need to build your own.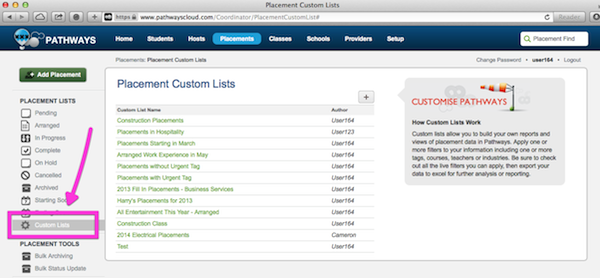 Custom Lists let you create your own on-screen report or list, give it a friendly name, and add one or more criteria/filters/conditions. Pathways Cloud lets you save these custom lists, so you will find yourself creating your own favourites in no time. You can see in the example above it's easy to quickly build a list of handy custom lists.
Creating a list is easy - just click the + (Plus) sign on the Custom List screen and you will be asked to provide a name. Pathways will then show a blank/vanilla list of Arranged and Not Archived Placements (the most common starting point). From here you can add/remove conditions to make your perfect list.

When you click the Add Condition button at the top a list of filters you can add pops up. Simply choose a field to filter, a value and the list will automatically update dynamically.