Each year it's common for one or more Australian states to update their work experience and/or structured workplace learning contracts and agreements to reflect a change in policy or legislation. Over the last 5 years these documents have increased in complexity in terms of the content required for their full completion, and the layout of the information and clauses contained.
As many of our school and community organisations generate these state agreements, we typically provide a basic version of these in a form that can be auto-generated from Pathways. Most schools would generate the documents using our standard version, however many community and school clusters modify these documents - for example which fields are used where, and sometimes layout or pre-authorisation text. As the basic starter versions we provide are in a standard Microsoft Word format, these changes are relatively straight forward despite the overall complexity of the agreement layout.
We provide the basic version as a starting point and recommend all customers using these go through their own validation exercise to ensure the fields inserted and text matches their own expectations. Some fields in some agreements have varying interpretations in our experience, so it's important the foundation we provide is checked and tested against individual needs before sending a student into the workplace :)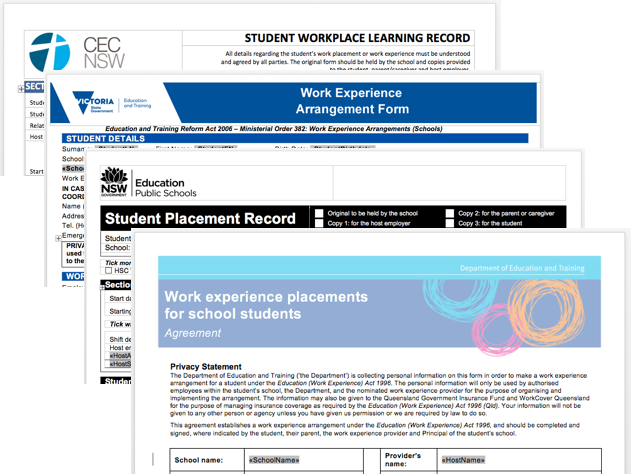 What Templates Are Provided?
Official Department of Education templates for Work Experience and Work Placement (Structured)
If applicable, state-based Catholic Education agreements or contracts (eg CEC NSW)
If applicable, national agreements or contracts (eg. relating to a national program)
When Do We Update the Agreements?
This depends on the timing of the new agreement and whether drafts are distributed prior (always great!). In recent years we have been able to release Pathways versions of the state documents within a month of them being formally available. This can depend on a few factors such as the format in which they are provided (PDF is always rough), and the size and complexity.
Can I Make My Own?
Certainly! The templates we create are using the same process in Microsoft Word that you use to create or modify any other letter or mail merge document in Pathways. We use the same starter template (that has all the fields for copy and paste) as well as the same Word interface to build up the layouts like any letter. Agreements and contracts are often multi-page and with lots of tables and checkboxes, but broken down they are similar to any other document you may choose to make.
Check out the "Mail Merges" function in Pathways Setup for access to the starter templates, existing documents and assistance.
Alternate Versions of Agreements
It's not uncommon for some school sectors to take a state or national agreement and make a localised version. We don't directly provide these within Pathways, however it's common for local versions to be made using the shell of the state template we do provide - which is often VERY similar or was the origin of the regional/local one.
HOT TIP:
If these templates are being presented to you for use in specific scenarios, we would highly recommend you ask the provider of the template to give you the file *NOT* in a PDF file (which is effectively useless from that point onwards) and in the Microsoft Word format from which it was likely created. A PDF that has been converted to a Word file is equally useless unfortunately as once real data is inserted the layout is often scrambled.
Often it's easier to make a copy of our base state template and then modify it accordingly to suit the localised need (eg. Catholic Diocese related etc) rather than build one up from scratch. We often have the state agreement and the alternate open side by side and copy and paste as needed into a new Word template.